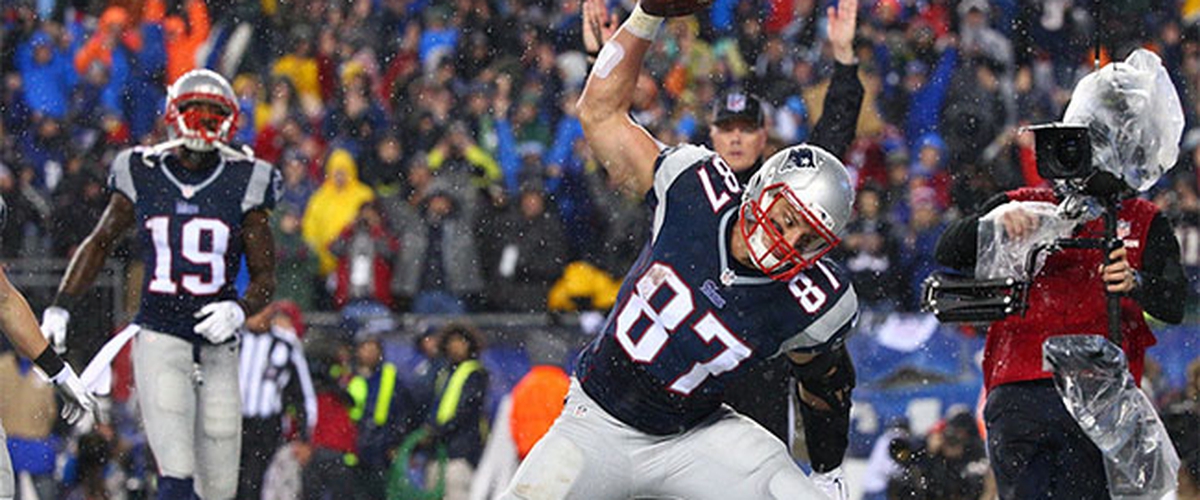 With Rob Gronkowski's retirement possibly coming this offseason, the man deserves to be recognized for being one of the best tight ends in the league when he was healthy. Looking at some of his stats though, it seems like he could be even better than that, so let's make a case for him being the greatest of all time. I'll start with a disclaimer: in terms of volume, Gronk isn't even close. He's never going to match Tony Gonzalez's 15,000 career yards or Jason Witten's 5+ year streak of leading the league in snaps at his position. Even if he plays for a few more years, there's no way he would be healthy for long enough to even have a chance. To make a legitimate case for Gronk here, you have to look at rate stats, individual season stats, and playoff stats. Really what we're trying to prove is that at his best, when he was healthy, Gronk may have been the best tight end the league has ever seen. He had the potential to be the GOAT, but it's a hard sell due to his lack of longevity and being limited by injuries.
That being said, let's look at a few individual seasons by Gronkowksi. Namely 2011, 2014, 2015, and 2017. These are his 4 All-Pro First Team seasons, he was healthy for more or less all of the games, and he absolutely dominated. Starting with 2011, as this was likely the best season of his career. Without any injuries weighing him down yet, Gronk caught 90 passes, good for a 72% catch percentage, the best of his career. Those receptions resulted in 1327 yards, which is 3rd all time for a tight end, and 17 Touchdowns, which is still an NFL record. For comparison, Tony Gonzalez had only two seasons close to these numbers, 2000 (1203 yards, 9 TD) and 2008 (1058 yards, 10 TD). Travis Kelce this season (1336/10) is maybe Gronk's closest comparison and Antonio Gates' (1101/10) in 2005 is as close as he ever got to those numbers. And then there was 2014 Gronk and 2015 Gronk, who both posted over 1100 yards and 10 or more touchdowns. Jimmy Graham is the only other player to do that more than once, with 1310/11 in 2011 and 1215/16 in 2013. In 2017, Gronk posted his fourth 1000 yard season, tying Tony Gonzalez and Jason Witten for most all time for a tight end. He stands alone on the tight end Touchdown leaderboard with 5 seasons of 10 or more, the most by anyone.
With individual season accolades out of the way, let's look at career stats. Rob Gronkowski has played 115 games in the NFL across his 9 seasons. Some quick math will tell you that 9 seasons should amount to 144 games, but you know how it is with the injuries. For comparison, Gonzalez, considered by many to be the best receiving TE of all time, started 270 games across 17 years. Like I mentioned before, Gronk is never going to come close to Tony's 15,127 Receiving Yards. But, in less than half the games and with roughly 40% of the receptions, he did put up 7861, which is on pace to beat that record by a decent margin. I mentioned Gronk's First Team All-Pros before too; he had 4 out of 7 seasons where he started 10 or more games. Tony Gonzalez holds the record for First Team All-Pro nominations with 6–but started 10 or more games in all 17 of his seasons. Once again, Rob Gronkowski lacks the longevity to put together all-time highs in these categories, but throughout his time in the league he's been on pace to shatter records and put up career numbers that are just stupid good. That especially goes for Touchdowns, where he's averaged .7 per game throughout his career, and 79 total. Gonzalez totalled 111 over his 270 games. Gates holds the record with 116 over 236 career starts. To clarify how insane that is, the percentage of starts for Gronk to Gonzalez is ~42.6%, while the touchdown ratio is ~71.2%. These numbers prove that Gronkowski, when healthy, was absolutely unstoppable, especially in the red zone.
Gronk's unstoppability came from a few different factors: he's a matchup nightmare for anyone on the field due to his size and athletic ability, and he has fantastic hands for such a big guy. On top of that, his blocking ability has allowed the Patriots to leave him on the field for a ton of snaps where other purely-receiving guys might have struggled. These strengths led to him averaging over 60 yards per game through his career so far, and over 70 in the playoffs. Overall, Gronk's stats in the playoffs are unbelievable. He holds the record for most yards and most Touchdowns by a Tight End with 1163 and 12, respectively, in the playoffs, and is also tied for second overall in Touchdowns. His yards per reception sits at 14.4, higher than Gates (10.6), Gonzalez (9.5), Witten (10.8), and Kelce (12.9), all of whom have fewer games played. Going to the playoffs every year is just a benefit of being on a Tom Brady/Bill Belichick team, but Gronk has made the most of every opportunity, evidenced by the above stats as well his rate of .8 TD/game, higher than every other tight end with over 5 games played. His playoff stats are somewhat the opposite of the regular season in the sense that rate stats have to be used because he's played more games than most other people instead of less.
That's pretty much it. Anyone who's watched a Patriots game over the last nine years has probably seen the impact that Gronkowski can have on a game, either through his presence on the field or his lack of. I think we can conclusively say that Gronk had the potential to be the greatest player in his position of all time, but still managed to finish as probably a top 5 TE in NFL history, and probably a first ballot Hall Of Famer. That's not bad.