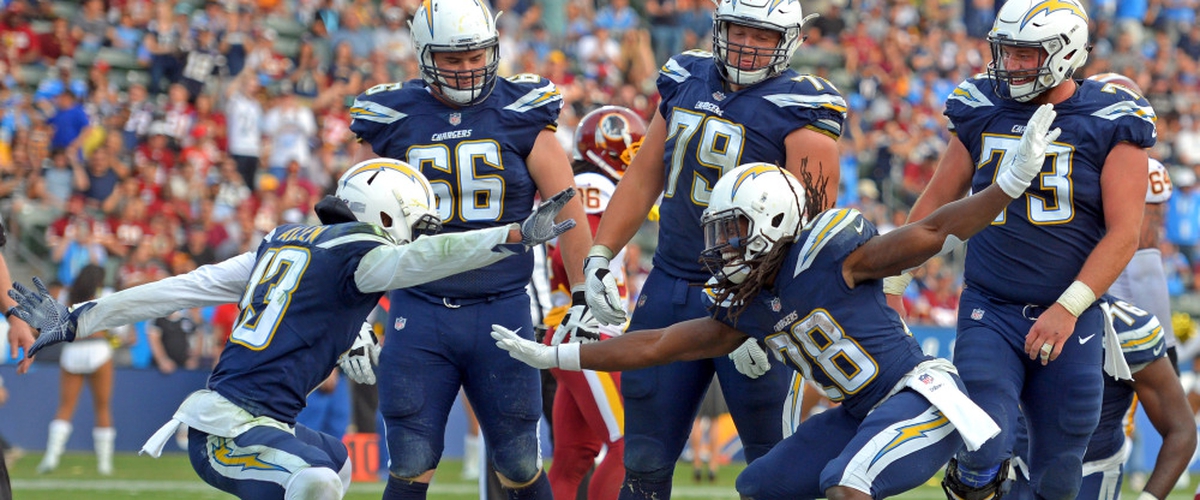 The Chargers were the NFL's ultimate road warriors last season, as they won some tough games in Kansas City and Pittsburgh down the stretch, leading many to believe the Chargers were a Super Bowl front runner. Unfortunately, their season came to an end in Gillette stadium, as the defense let Patriot's running back Sony Michel run wild on them. On the bright side, the Bolts might have the most complete team in the league at the moment, with a ton of star caliber players including Philip Rivers, Melvin Gordon, Keenan Allen, Mike "Big Play Mike" Williams, Hunter Henry, Joey Bosa, Melvin Ingram, and Derwin James. If that group of players doesn't impress you, consider the fact that the rest of the roster has names like Corey Liuget, Jason Verrett, Casey Hayward, Austin Ekeler, and Desmond King among many other solid players. Under coach Anthony Lynn, the team has the potential to overtake the Chiefs in the AFC West with a productive offseason. With that being said, here are three things the Chargers must do this offseason.
Bring back Jason Verrett and Trevor Williams
It goes without saying that when the Chargers drafted the undersized Verrett in the first round of the 2014 draft, they had very high hopes for him. The team viewed Verrett as a potential shutdown nickel corner, and when healthy he has proved to be that. Coming off of a season lost due to injury, the best move for both the team and Verrett would be to reunite on a one year deal. This would give Verrett a season to prove himself worthy of a big contract in 2020, and would provide the Chargers with unbelievable depth at corner. Likewise, the team should absolutely keep Williams, who struggled in 2018, but as recently as 2017 he graded out at 88.5 with Pro Football Focus, pairing with PFF's top corner of 2017; Casey Hayward to form the best cornerback duo in the league last year. At just 25 years old, Williams has at least three or four prime years left, and coming off of a down year he might not command the same salary that it looked like he was going to after 2017. It is in the best interest of the team to bring back both corners in an effort to maintain one of the best secondaries in the NFL. With the ability to deploy Casey Hayward, Williams, Verrett, and Desmond King interchangeably at corner, along with elite pass rushers in Joey Bosa and Melvin Ingram, the Chargers could be a serious contender for best defense in the NFL in 2019, assuming everyone stays healthy.
Draft linebacker Mack Wilson
The Chargers are just one very good linebacker away from being a top flight defense. Wilson has the chance to be one of the best in this year's draft. A very complete linebacker from Alabama's defense factory (whose linebacker department's products include D'onta Hightower, Rashaan Evans, C.J Mosley, Reuben Foster, and Mark Barron among many others) Wilson could take over for free agent Denzel Perryman in the middle of the defense. At pick 28 in the draft, Wilson may or may not be available depending on how well he performs at the combine, and if he is off the board then the team should have a player like Michigan's Devin Bush or NC State's Germaine Pratt as a backup plan. However, Wilson would be the ideal fit for the defense as he could have a Roquan Smith type of role alongside Jatavis Brown.
Draft a QB of the future, or at least a better backup than Geno
Philip Rivers is getting older and he takes some big hits thanks to a consistently inconsistent offensive line. The Chargers should take a page out of the Saints playbook and get a capable backup quarterback while they can. Personally, the concept of Will Grier learning behind Philip Rivers sounds incredible to me. Both players have a unique combination of swagger and likability that, in conjunction with their gunslinging play style, makes them so easy to root for. If Grier is gone by the time the Chargers make their second or third round pick, Jarrett Stidham would be an excellent consolation prize. Stidham struggled in his last year at Auburn. However, a lot of evaluators who watched Stidham at the Senior Bowl have chalked his struggles up to a poor team around him, and think he has a decent case for being a top five quarterback in this class. Unless a team really loves Stidham it's hard to see him getting picked until round three, an ideal spot for the Chargers to grab him. Either way the team needs to bring in some new blood at quarterback, and both Grier and Stidham are capable of stepping in (like Dak Prescott in 2016) if Rivers gets injured.